FOR IMMEDIATE RELEASE
May 5, 2014
CONTACT: Rob D'Amico (512-627-1343)
Commissioner of Education's guidelines for teacher evaluation worsen the obsession with and misuse of standardized testing
Linda Bridges, president of the Texas branch of the American Federation of Teachers (Texas AFT), commented today on the Texas Education Agency's guidelines for teacher evaluations submitted to the U.S. Department of Education:
more
Seven Houston Teachers, Houston Federation of Teachers File Lawsuit
Challenging Constitutionality of Value-Added Measure for Evaluations 
more
Check out the Legislative Hotline for election updates, and you can see more on Texas AFT endorsed candidates here ...
more
Day of Action: Reclaim the Promise!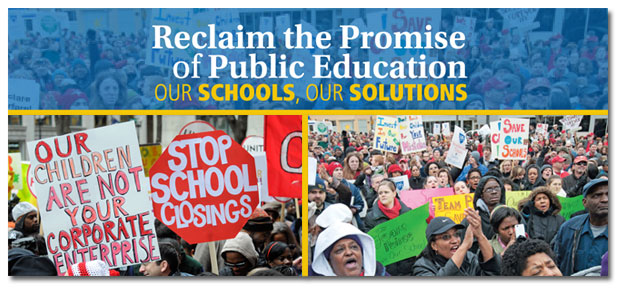 Together, we made Dec. 9 a national day of recommitment to public schools—our nation's gateway to democracy and racial and economic justice. 
And...
Pages